Introducing an improved Pricing Model
We are introducing a Pricing Model for all Wolt Courier Partners in Wolt Denmark. There are five main points to mention regarding the Pricing Model: Upfront pricing, Pay for pickup, Estimated route distance, Reject button and Simplified earnings.
Today, less attractive tasks are rejected simply because you might feel that the effort needed for that task is not worth the fee.
By better matching the fee with the effort needed, the tasks will hopefully be accepted quicker making our service more efficient and minimising delayed orders and dissatisfied customers. In the future, we'll also be able to account for difficulty of finding venue/customer locations, weather, type of order, and other variables, that can affect the effort needed to complete the task.

Ultimately, we want to make all tasks equally worth your time and effort.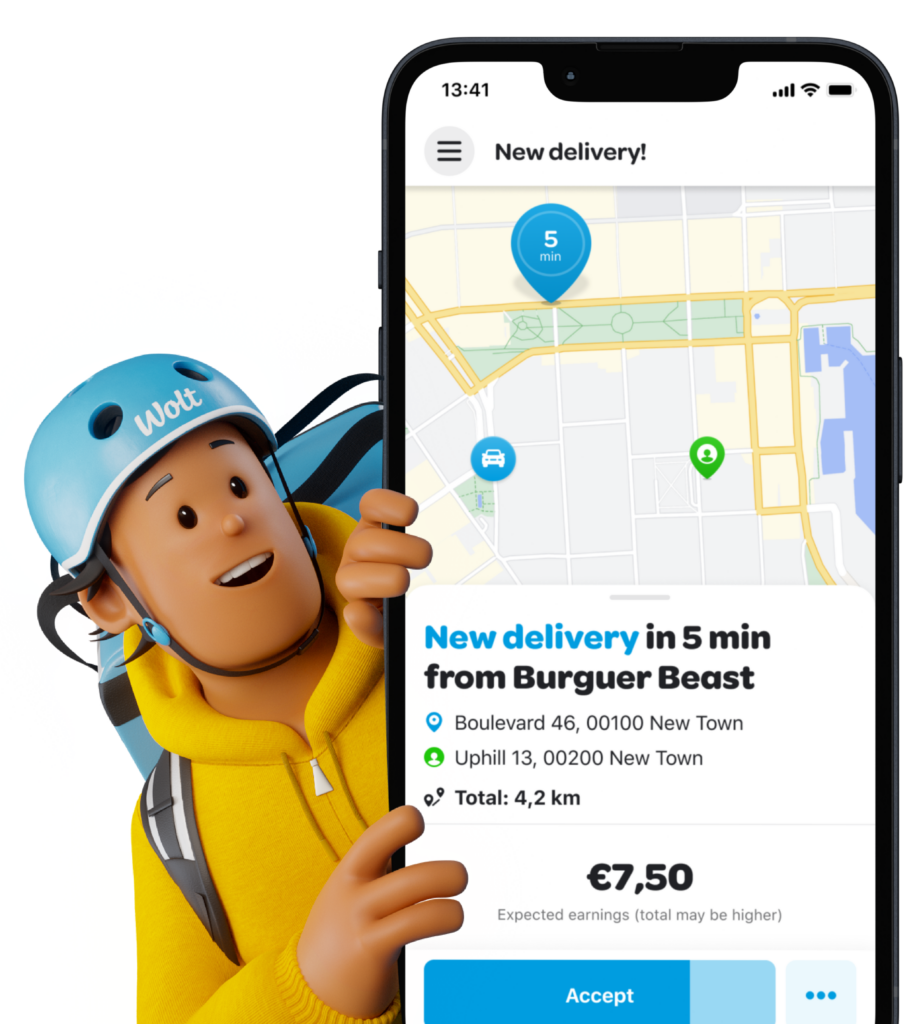 How does the Pricing Model work?
You will see the fee you can earn for each delivery task before you accept or reject it. 
You will get pick-up distance fee for the way you travel from where you accept the task.
All distance fees will be based on the estimated route distance of each task.
You can reject all tasks – including bundles, without contacting support or waiting for it to disappear.
We have simplified the earnings overview in the Partner app, so it's more compact and transparent.
We value your hard work and dedication, and we want to do everything we can to support you and ensure that you are fairly compensated for every task in return for your efforts. Thank you for choosing Wolt as your partner.
In addition to pickup and drop-off addresses, you will start seeing the task earnings for each delivery task before you accept or reject it. In a nutshell, this means that you will have a better chance of quickly evaluating what each task is worth. We aim to make sure the earnings offered for a task better reflect the actual effort needed to deliver that order.
When a task pops up, you will be able to see the offered task earnings by Wolt, but any tips related to the task will be added after. This feature has been requested via our courier partner satisfaction surveys for a long time, and we hope it will make it easier to decide which tasks to accept!
In the former Payment Model, you were only payed for the distance between the venue and the customer. Now you will also be compensated for the distance between you and the venue, when accepting the task. It means that you will now be compensated for the entire distance from accepting the task to delivering it to the customer.
We know that this is a feature that also has been requested from you for a long time in our quarterly satisfaction survey – so we are happy to announce that you will be paid based on both the drop-off distance to the customer as well as the pick-up distance to the venue.
In the previous Payment Model, you have been compensated for distance in straight-line measures. Now you will be compensated for distance based on a pre calculated route. This means that when receiving a task, a route is calculated in the navigation section of the app.
This will prevent situations where a straight-line distance across a river or something similar, where the distance would be much shorter than the calculated road distance. We hope this will create a more transparent way of looking at distance when delivering with Wolt.
The earnings screen in the Wolt Partner app has now been simplified. Meaning the earnings breakdown in Finances tap will be simplified and easier to understand and more transparent. You find it in the menu in the top left corner, which is the one you can see after completion of a task.
The earnings breakdown is removed and distance, base and other earnings components are rolled into a simple single 'Task fee'. The result is a payout page summarizing your completed tasks in a more compact and clean view.
Frequently asked questions